The main goal of Tompla, as a label and envelope manufacturer, is to serve the most demanding customers by always offering customised solutions.
This approach guides the company, its investments and organisation in serving its customers with productive means and systems that are useful, competitive and efficient.
Personalised service is paramount, and so is responding to every need as the norm, not as an exception or a favour.
Stimulating intelligence and effort to offer alternatives in product creation, production and in processing the order.
Seeing the issues raised by customers as opportunities to improve, learn and go above and beyond with the solutions.
Tompla como fabricante de etiquetas y sobres tiene como principal objetivo servir a los clientes más exigentes ofreciendo siempre soluciones personalizadas. 
Este enfoque guía la empresa, sus inversiones y organización, para disponer medios productivos y sistemas de servicio al cliente útiles, competitivos y eficaces.
Impone la atención personalizada y la respuesta a cada particular exigencia como algo normal, no como excepción o como favor.
Suscita inteligencia y esfuerzo para ofrecer alternativas en la creación del producto, en su producción y en el servicio del pedido.
Hace ver los problemas planteados por los clientes como ocasiones de mejorar, de aprender y de ir más allá con las soluciones.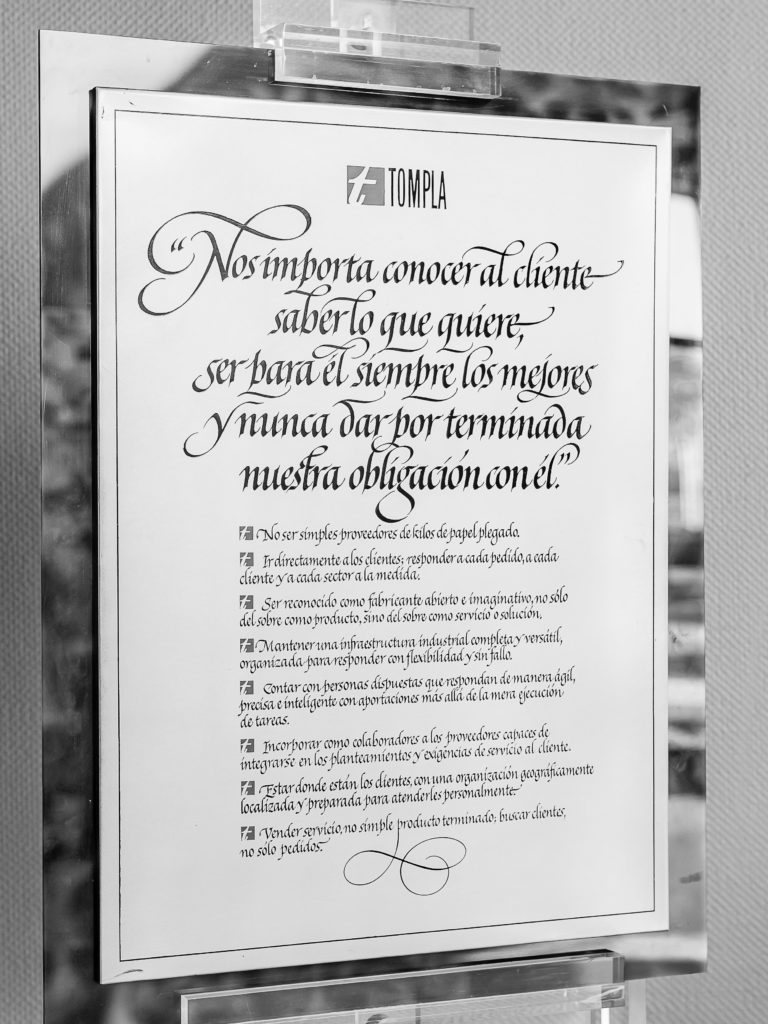 Knowing what our customers want, always being their best choice, and never faltering in our duties towards them is important to us.
Not just being mere suppliers of kilos of folded paper.
Approaching the customers directly, giving a custom response to each order, to each customer and each sector.
Being recognised as an open and imaginative manufacturer, not only of the envelope as a product, but as the envelope as a service or solution.
Maintaining a complete and versatile industrial infrastructure, organised to respond with flexibility and never failing.
Having a workforce who responds in an agile, precise and intelligent manner, going above and beyond merely performing tasks.
Incorporating suppliers capable of integrating into customer service approaches and requirements as our partners.
Being where the customers are, with a geographically localised and prepared organisation to serve them personally.
Selling service, not just the finished product. Looking for customers, not just orders.
"Tener un profundo respeto de nuestros compromisos que nos permita contar con la confianza de nuestro equipo, de nuestros clientes, de nuestros proveedores y de las entidades financieras que confian en nuesta capacidad empresarial."
TOMPLA es la primera industria internacional de sobres que ha recibido la Certificación de su proceso integral de producción, para su planta de fabricación y sus oficinas comerciales.
TOMPLA dispone de un sistema de gestión de la calidad certificado por AENOR .
TOMPLA, gestión de calidad y medio ambiente certificadas ISO 9001 y 14001
El compromiso de calidad de TOMPLA con sus clientes es prioridad fundamental de TOMPLA desde su fundación. Su sistema de gestión de la calidad abarca el análisis de los requisitos del cliente, la definición de los procesos que contribuyen al logro de productos aceptables para él y el mantenimiento de estos procesos bajo control para cumplir estrictamente los requisitos definidos por los clientes.
Asimismo, TOMPLA dispone de un sistema de gestión medioambiental para mejorar día a día su eficacia en el consumo de recursos energéticos y materias primas con métodos de producción más limpios o de mejor gestión de los residuos generados. La certificación ISO 14001 garantiza que este comportamiento medioambiental es apropiado y está acorde con la legislación vigente.
En TOMPLA están integrados los sistemas de gestión de la calidad y medioambiental dentro del funcionamiento diario de la organización para alcanzar objetivos medioambientales, económicos y de calidad de forma conjunta.